January 29, 2013
March 11 destruction still scars Fukushima nuke plant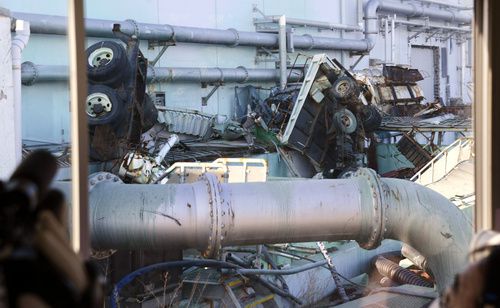 The twisted remains of a truck destroyed in the March 11, 2011 earthquake and tsunami are seen at the Fukushima No. 1 nuclear plant on Jan. 28. (Mainichi)
http://mainichi.jp/english/english/newsselect/news/20130129p2a00m0na009000c.html
A year and some 10 months after three reactor meltdowns at the Fukushima No. 1 nuclear plant, the power station remains marked by striking signs of destruction.
Tokyo Electric Power Co. (TEPCO) opened the plant to the news media on Jan. 28 to give the world a glimpse at the ongoing effort to deal with the worst nuclear disaster since Chernobyl. What the reporters saw was a mixture of progress and persistent signs of destruction, with toppled power lines and wrecked vehicles still lying where the March 11, 2011 earthquake and tsunami left them.
Except for a visit to the plant's emergency response office -- housed in a quake-resistant building -- TEPCO kept the reporters aboard a bus for the entire tour. Stops included wells being dug along the edge of the reactor buildings -- where pumps will be installed as part of efforts to prevent reactor coolant water from contaminating groundwater -- and at an incomplete building that will house new water decontamination equipment.
TEPCO is planning to move the fuel rods in the spent fuel pool atop the plant's No. 4 reactor -- one of three reactor buildings that exploded soon after the meltdowns -- to a new pool nearby. Some of the spent rods already in the new pool will eventually be moved into air-cooled "dry casks." Construction of temporary storage buildings for the casks, as well as cranes designed to lift them, are now under way.
Radiation levels in the tour bus peaked at 1.3 millisieverts per hour near the No. 3 reactor's turbine building. A portable dosimeter carried on the tour registered a total radiation dose of 38 microsieverts over the three-hour visit.