3 of 9 utilities may fail to meet demand / Power curbs seen likely this summer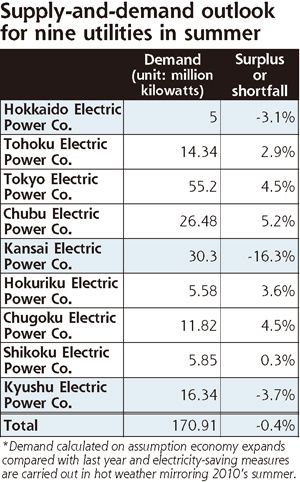 Three of the country's nine electric power companies may be unable to meet expected demand this summer, the government says.
Kansai Electric Power Co.'s (KEPCO) supply may fall 16.3 percent short of maximum demand, according to power supply-and-demand projections compiled by the nine utilities and released by the government Monday.
Supply also is expected to fall short of demand in areas covered by Kyushu Electric Power Co. and Hokkaido Electric Power Co.
The government said Shikoku Electric Power Co., Tohoku Electric Power Co. and three other utilities with low power-generation capacity may ask large-lot users to curb power consumption.
However, the power supply in areas covered by Tokyo Electric Power Co. is expected to meet demand this summer, in contrast to last year when restrictions were imposed on large-lot users, and households and small and midsize firms were asked to reduce consumption.
On Monday, the government started examining power supply-and-demand estimates presented by the nine utilities at the first meeting of a study committee chaired by Katsuyuki Ishida, senior vice minister at the Cabinet Office.
The estimates were made on the assumptions that no nuclear power reactors will be reactivated and the weather will be as hot as the summer in 2010.
According to the projections, the nine power companies are expected to face a combined power shortage of 0.4 percent this summer. This is a vast improvement from estimates made in July last year, when the power shortage was put at 9.2 percent.
This year, western Japan is expected to face a power shortfall of 3.6 percent, while eastern Japan will enjoy a surplus of 3.7 percent.
A total of 7.29 million kilowatts of electricity has been added to the nation's supply thanks to an increase in output at thermal power stations and the purchase of electricity from businesses with private electrical power facilities. An additional 350,000 kilowatts were obtained from solar power generation.
To deal with the expected power shortages, the government sees a need to restrict power usage this summer through contracts with large-lot users such as factories and offices .
However, the combined effect of power conservation in areas covered by the nine utilities based on such contracts would only result in saving 4.91 million kilowatts, 2.9 percent of demand.
Of the 4.91 million kilowatts, the amount saved in areas covered by KEPCO would likely be 370,000 kilowatts, or about 1.2 percent of demand.
TEPCO is likely to see a supply surplus of 4.5 percent in summer thanks mainly to an increase in output from thermal power stations, exceeding the 3 percent benchmark figure that indicates a tight power supply.
However, if the reactivation of nuclear reactors is delayed, electricity rates are likely to rise regardless of whether power supplies meet demand.
The study committee will hold several meetings to verify the power supply-and-demand estimates before hammering out final estimates and countermeasures in mid-May.