Toshiba developing small N-reactor / Reactor to be used to mine oil sands in Canada; initial operation by 2020 eyed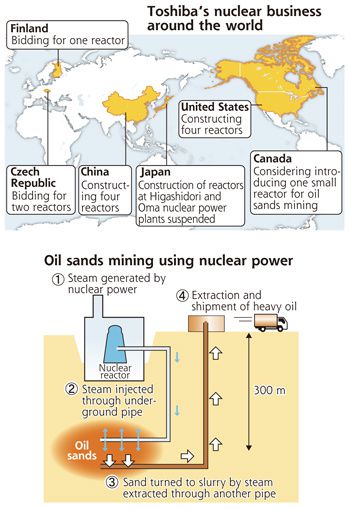 Toshiba Corp. has been developing a small nuclear reactor for mining oil sands at the request of a firm engaged in such mining projects in Alberta Province, Canada, and aims to begin operating the reactor by 2020, it has been learned.
As the situation regarding the construction of new nuclear power plants and reactors in Japan remains unclear, Toshiba's move will likely attract attention as an effort toward utilizing the nation's nuclear technology in fields other than power generation.
Oil sands are sandstone deposits which contain a viscous form of petroleum, and can be used as petroleum-based fuel. Compared with oil fields, it has so far been difficult to develop oil sands. However, technological advances have led to the promotion of oil sands development in Venezuela and Canada. Canada is said to have about 100 oil sands deposits totaling about 170 billion barrels--the equivalent of about 100 years' worth of petroleum consumption in Japan.
===
Generating steam
The output of Toshiba's new small reactor will be 10,000 kilowatts to 50,000 kilowatts, about 1 percent-5 percent that of a regular nuclear reactor, according to the sources.
Steam generated in the reactor will be sent to strata located at a depth of about 300 meters, where oil sands are found, to turn the sand into slurry. The slurry will then be extracted from the strata using a separate pipe.
To ensure the reactor's safety, Toshiba reportedly plans to construct a nuclear reactor building underground, while the building itself will be equipped with an earthquake-absorbing structure.
The firm has completed a basic design for the reactor and has already started approval procedures for construction in the United States. After getting the official go-ahead from the U.S. government, Toshiba will then undergo safety checks in Canada.
Currently, oil sands are mined using boiler-generated steam. However, as this method requires natural gas to fuel the boilers, it is necessary to transport the gas as needed. Also, carbon dioxide emissions from burning natural gas is seen to be a problem.
By contrast, the planned small reactor would not require refueling for up to 30 years after construction or release any carbon dioxide. Furthermore, nuclear reactors would also be cheaper should the general price of natural gas increase.
===
Other purposes
Toshiba also plans to use the small reactor for purposes other than oil sands mining, the sources said.
For example, the firm is considering using it at desalination plants, which convert seawater into freshwater, or as a power source for electrolysis equipment to produce hydrogen for fuel battery-powered vehicles.
Usually, constructing a small reactor costs between 50 billion yen and 100 billion yen, less than 20 percent the cost of building a regular reactor. This would make the new reactor easier to introduce in frontier areas. Therefore, Toshiba has been working in Alaska and municipalities in northern Canada to introduce its small reactor as a small-scale power station.
To gain the understanding of local residents, Toshiba will disclose information about its small reactor to locals and carefully explain its safety to them.
===
Influencing Toshiba's growth
Sales for Toshiba's nuclear business stands at about 600 billion yen, 10 percent of the firm's overall sales. As the firm considers its nuclear business as a core part of its future growth, Toshiba plans to increase sales to 1 trillion yen by fiscal 2017.
Currently, Toshiba is constructing eight regular reactors in the United States and China, and is expected to receive orders in the Czech Republic and Finland. The firm aims to receive orders for 39 reactors by March 2018.
While Toshiba has received orders for reactors at Oma and Higashidori nuclear power plants, both in Aomori Prefecture, construction has been suspended since the Great East Japan Earthquake in March 2011. While Prime Minister Shinzo Abe has expressed his support for building new reactors, there is still no prospect for resuming construction of these reactors.
Meanwhile, international competition for reactor orders has been intensifying as Chinese and South Korean firms increase their presence in the market. Under these circumstances, Toshiba also hopes to develop new markets by diversifying uses for nuclear reactors and enhancing its competitiveness in the industry.