Panel avoids tough nuclear power questions / Report refrains from policy suggestions; some members say they needed more time for discussions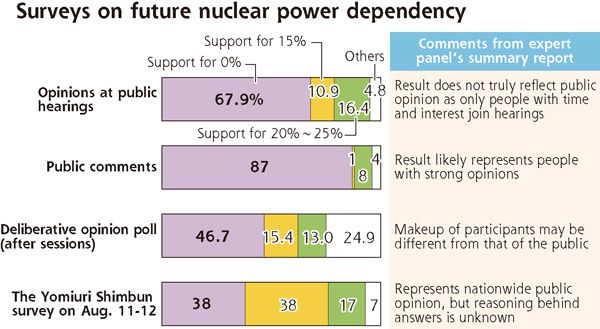 A summary report by a government panel of experts that analyzed recent public polls on future nuclear power dependency refrained from making concrete suggestions on a future energy policy, but said most people want to move away from nuclear power.
The government plans to use the report to compile its "Innovative Strategy for Energy and the Environment" by the end of the current Diet session on Sept. 8.
However, as opinions within the government and the ruling Democratic Party of Japan remain divided over an energy vision, it is unlikely the government will settle on a target proportion of nuclear power in power generation.
The panel, chaired by Motohisa Furukawa, state minister in charge of national policy, compiled the summary report after its eight members, including experts on opinion polls, discussed the matter in three meetings.
The report, compiled Tuesday, concluded, "At least a majority of the public wish to realize a society that isn't dependent on nuclear power."
However, it avoided outlining a clear direction in the country's energy policy among the three scenarios of nuclear power dependency in 2030--zero, 15 percent or 20-25 percent.
The panel's report was based on 90,000 public comments and opinions gathered at hearings in 11 locations as well as a deliberative opinion poll. It also analyzed 1,300 responses to questionnaires and opinions from industry groups to clarify main issues on the matter.
In the report, the panel took a reserved stance toward a plan to achieve zero dependency by 2030, saying it remains a question how early denuclearization should be realized, even though the majority of the public support the policy.
At one panel meeting, the government showed results of a survey conducted by an Internet company, covering about 1.27 million people. According to the results, about 30 percent of people in their 20s and younger consider it unnecessary to reduce nuclear power dependency if safety is enhanced. Only about 20 percent of people in their 50s or older agreed, indicating stronger support for maintaining nuclear power among younger generations.
Asked whether nuclear dependency should gradually be reduced to zero, about 65 percent of female respondents said yes, while only 53 percent of male respondents said they agreed.
===
Politicians to make final decision
The panel's report pointed out that a majority of the public support zero dependency because of a growing "distrust in policy-making processes on nuclear policy and anxiety over the safety of nuclear power generation."
The report also noted that many people who support "zero dependency" also promote renewable energy and are willing to accept increased power costs. People with other opinions tended to emphasize the need to secure human
resources and technology for nuclear power generation, as well as concerns over stable energy supply and costs.
Furukawa said: "We carried out the analysis with fairness, neutrality and transparency. Politicians, who are representatives of the public, will make a final decision."
However, some officials criticized the panel, with a senior official of an economy-related government body saying: "We were already aware of those points of contention. Did we really need such panel meetings?"
Members of the panel also voiced concern, with one saying three meetings was insufficient to discuss such an important issue, and that it was merely an ad hoc panel.
Despite such criticism, the panel fulfilled its role in cross-analyzing various opinions and surveys on the power issue. Some Cabinet members have suggested a political decision should be made as soon as possible.