February 2, 2014
UK nuclear experts to help decommission Fukushima
Engineers from Sellafield to travel to Japan to advise on shutting down the stricken site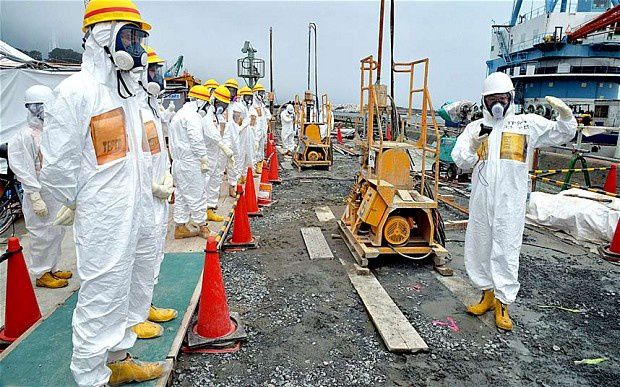 Government officials and nuclear experts inspecting a construction site at Fukushima in August Photo: AFP/GETTY IMAGES
http://www.telegraph.co.uk/finance/newsbysector/energy/10613243/UK-nuclear-experts-to-help-decommision-Fukushima.html
British nuclear experts are being lined up to help decommission the damaged Fukushima power plant in a move that could reboot Japan's atomic power capabilities.
Lady Judge, the British-American nuclear expert and adviser at Fukushima, is organising for engineers from Sellafield in Cumbria to travel to Japan to advise on decontaminating and shutting down the stricken site.
"At Sellafield and Dounreay we are decommissioning big power plants and we can provide a very good example to the Japanese of how to do it safely," said Lady Judge in an interview with The Telegraph. "I've been talking to Sellafield about sending some engineers to help."
The Tokyo Electric Power Company (Tepco), which owns the Fukushima plants, is planning to launch a new subsidiary for decommissioning and decontamination on April 1. The division is expected to be headed by a Japanese nuclear expert who is expected to be advised by British engineers.
On Friday, Sellafield ordered all non-essential staff to stay at home after elevated readings of radiation were detected on site. Later officials at Sellafield – the site of Britain's worst nuclear accident in 1957 – said naturally occurring radioactive gas that comes from rocks and soil, had triggered the alarm.
"A lot of knowledge will go between Japan and the UK," said Lady Judge. "Helping the Japanese, will also help the Brits. We will benefit from working in Japan, the nuclear industry will benefit, and R&D will flourish in both countries."
The move would reverse the roles in the UK where Japanese companies, including Toshiba and Hitachi, are leading the plans, alongside France's EDF Energy, to build the first nuclear power stations in Britain for decades. Three weeks ago Japan's Toshiba agreed to buy a 60pc stake in NuGeneration, the UK nuclear venture that plans to build three new plants at the Moorside site in West Cumbria.
Lady Judge said that while Britain has lost most of its nuclear building expertise, the country still a world leader in decommissioning. Lady Judge was chairman of the UK Atomic Energy Authority (UKAEA) from 2002 to 2010 which at the time was focused on decommissioning.
Almost 18 months ago, she was asked to join a new international oversight board being put together at the Tepco and appointed as deputy chairman of Tepco's Nuclear Reform Monitoring Committee, where she is in charge of safety.
The company is desperate to rebuild trust with the Japanese public which is still highly suspicious of nuclear power. The earthquake and tsunami that struck the Daiichi plant in March 2011 caused the worst nuclear accident since Chernobyl. Most of Japan's nuclear power plants remain closed in the wake of the disaster, despite the crippling costs of importing oil and gas.
Last week, Japan reported a record trade deficit of 11.5 trillion yen, up 65pc from a year ago, due to soaring energy costs. The country, which recorded trade surpluses every year between 1980 and 2010, relied on its nuclear power plants for most of its supplies. High energy costs also helped Japanese consumer prices rise at their fastest pace for five years, according to data out on Friday.
Tepco, which has been heavily criticised for its handling of Fukushima, is hoping that Lady Judge and the rest of the committee can help safely shut down Fukushima and pave the way for Japan's nuclear plants to restart.