Govt to scrap 3 N-reactors in Mihama, Tsuruga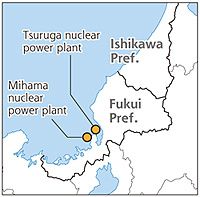 The government has decided to decommission three nuclear reactors at Japan Atomic Power Co.'s Tsuruga power plant and Kansai Electric Power Co.'s Mihama power plant, both in Fukui Prefecture, on the basis that nuclear reactors should not operate for more than 40 years.
This is the first time the government has mentioned decommissioning specific nuclear reactors after adopting its "innovative energy and environmental strategy," which aims to stop operations at all nuclear plants in the 2030s, last week.
"On the principle [of the 40-year rule], we're going to decommission [the reactors]," Chief Cabinet Secretary Osamu Fujimura said at a press conference Tuesday. The reactors Fujimura referred to were the No. 1 reactor at the Tsuruga plant and the Nos. 1 and 2 reactors at the Mihama plant.
The government's strategy stipulates it will strictly adhere to the rule limiting operations at nuclear reactors to 40 years. However, the decision of whether to actually decommission the reactors will be made by the nuclear regulatory commission, which is scheduled to be launched Wednesday.
Operations began at the Tsuruga plant's No. 1 reactor in March 1970. The Mihama plant's Nos. 1 and 2 reactors began operating in November 1970 and July 1972, respectively.
At present, the three reactors are the only ones in Japan that began operating more than 40 years ago.
Construction at Electric Power Development Co.'s Oma nuclear plant in Oma, Aomori Prefecture, and the No. 3 reactor at Chugoku Electric Power Co.'s Shimane nuclear power plant in Matsue has been suspended since the Great East Japan Earthquake last March.
Fujimura indicated the government would approve resuming construction of these facilities, saying, "The government won't call off construction permits or take back approval for building plans at nuclear reactors currently under construction."
===
3 reactors sit above crush zone
Additionally, the three nuclear reactors and other buildings at the two plants are located right above a crush zone, which experts have pointed out may be an active fault.
The Economy, Trade and Industry Ministry's Nuclear and Industrial Safety Agency ordered JAPC and KEPCO to conduct additional drilling research on the plants' premises.
Within the next five years, six other nuclear reactors in the nation will exceed the 40-year operation limit.