October 15, 2013
Strong typhoon approaching Japan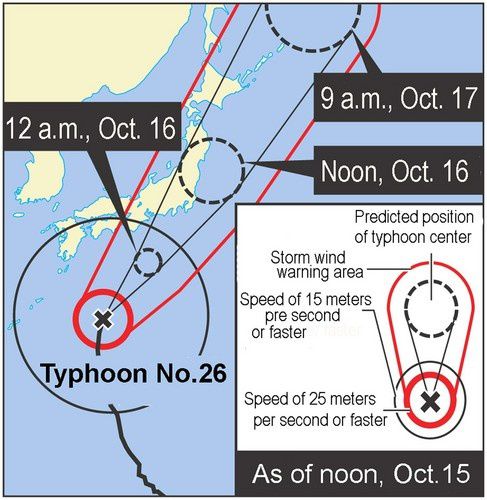 (Mainichi)
http://mainichi.jp/english/english/newsselect/news/20131015p2g00m0dm005000c.html
TOKYO (Kyodo) -- A strong typhoon was moving over waters east of Okinawa Prefecture's Minamidaito Island on Tuesday morning and will approach the Pacific side of eastern Japan on Wednesday, the Japan Meteorological Agency said.
The agency warned of strong winds, high waves and heavy rainfall from Tuesday to Wednesday in wide areas from western to northern Japan.
Typhoon Wipha, the 26th typhoon of the year, was traveling northward around 260 kilometers east of Minamidaito at a speed of 25 km per hour as of 6 a.m. Tuesday, according to the agency.
It had an atmospheric pressure at its center of 940 hectopascals and was packing winds of up to 216 kph.
It will bring up to 350 millimeters of rainfall in 24 hours through 6 a.m. Wednesday in the Tokai region surrounding Nagoya as well as 250 mm in the Kanto-Koshin and Kinki regions, including Tokyo and Osaka.