December 3, 2012
Third force' leaves nuclear issue unclear / Mirai no To, Ishin no Kai party executives contradict themselves, one another in policy statements
http://www.yomiuri.co.jp/dy/national/T121202003699.htm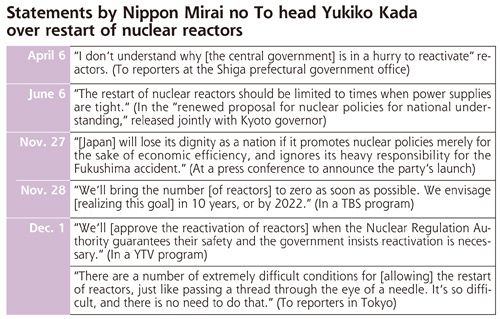 Statements by Nippon Mirai no To (Japan future party) and Nippon Ishin no Kai (Japan Restoration Party) on nuclear energy have sown confusion, exposing the policy ambiguities of "third force" parties hurriedly put together ahead of the House of Representatives election.
Campaigning for the lower house election is set to officially kick off Tuesday, to be followed by voting on Dec. 16.
The day before announcing the party's campaign pledges Sunday, Nippon Mirai no To head Yukiko Kada made a controversial statement suggesting the party would approve the restart of nuclear reactors but later corrected the comment.
The party's campaign pledges called for completely decommissioning nuclear reactors within 10 years and freezing the consumption tax hike law.
Yet on a YTV program that aired Saturday morning, Kada suggested conditionally approving the restart of nuclear reactors.
She said the party would approve reactivation if safety were ensured and the government insisted reactivation was necessary, assuming that the Nuclear Regulation Authority set new safety standards.
But she corrected her statement later the same day, saying it had been misleading.
"There are a number of extremely difficult conditions to [allow the restart of reactors], just like passing a thread through the eye of a needle," she said. "It's very difficult, and there's no need to do it [restart reactors]."
After Kada's comments had been reported by the media, a number of messages were posted on Mirai no To websites.
"I want the party to promise us not to allow reactivation," one message said. "If you make this point ambiguous, it will make it difficult for us to see the difference from other parties."
Another one said: "Don't approve reactivation. Without that pledge, the party will no longer be Mirai no To."
If Nippon Mirai no To's image as a pro-denuclearization party dwindles, it will undoubtedly diminish the party's strength.
Kada corrected her statement by announcing the party's opposition to reactivation. In addition, she pledged to halt the operation of reactors Nos. 3 and 4 of Kansai Electric Power Co.'s Oi nuclear power plant. "If we are in power, we will suspend the reactors to ensure safety," she said.
Yet it cannot be denied that Kada's stance on nuclear power still remains unclear. Immediately after the YTV program, she told reporters, "There are many problems, such as ensuring a stable energy supply," implying the possibility of reactivation.
Mirai no To was launched under the banner of denuclearization. Its members include members of People's Life First, the party founded by Ichiro Ozawa, and another party touting tax cuts while opposing the Trans-Pacific Partnership framework and the use of nuclear energy.
The party was established by Shizuka Kamei, a former state minister in charge of financial and postal affairs, and former Agriculture, Forestry and Fisheries Minister Masahiko Yamada and others.
Mirai no To deputy head Yuko Mori, who is close to Ozawa, said Saturday: "Our party's policy on nuclear power is almost identical to [that of] People's Life First. It will never be possible for us to approve reactivation."
Such inconsistent remarks among party executives have led observers to point out that party members have failed to sufficiently reconcile their policies.
Nippon Ishin no Kai also is losing its way regarding the same issue.
At a debate among party leaders at the Japan National Press Club on Friday, Ishin no Kai head Shintaro Ishihara indicated that nuclear reactors were necessary. He also expressed his intention to review the party's lower house election campaign pledge on nuclear power, which stipulates that existing nuclear reactors will be phased out by the 2030s.
On Saturday, however, party Secretary General Ichiro Matsui denied plans to review the pledge to reporters in Kyoto.
Prime Minister Yoshihiko Noda, who heads the ruling Democratic Party of Japan, was critical of the confusion within Ishin no Kai.
"Their policies and philosophies were hurriedly created, so they have to use different points to appeal to voters every day," Noda said in his street speech in Sapporo on Saturday. "Be careful not to be deceived by such confusing statements."
===
Mirai launch initiated by Ozawa
Meanwhile, it came to light that Ozawa was actually the one who initiated the launch of Nippon Mirai no To, though he will not officially join until later.
On Saturday, Kada held talks with Ozawa in Tokyo with reporters in attendance.
As to the party's launch, Kada said that it first began when Iwate Gov. Takuya Tasso asked her to meet Ozawa at the end of September. "I didn't imagine at all [launching a new party]," she said.
When Kada asked Ozawa why he approached her, Ozawa replied: "I always thought you had potential."
When asked by reporters if she decided to form the party because she had been invited to by Ozawa, Kada said, "Yes."
===
Yamada named deputy head
Nippon Mirai no To decided Saturday to appoint Tetsunari Iida, a special adviser to the Osaka prefectural and city governments, as acting head of the party.
Former agriculture minister Yamada and former lower house member Tomoko Abe were appointed as deputy heads, in addition to Mori.
Ozawa and Kamei did not take executive posts.