Party leaders butt heads over N-power vision / Discussions draw out key differences in campaign pledges over future of nuclear energy dependence
Heads of 11 political parties staged heated discussions Friday on key issues facing the House of Representatives election, including nuclear power generation and negotiations on the Trans-Pacific Partnership framework.
The debate was held at the Japan National Press Club in Chiyoda Ward, Tokyo, and came against the backdrop of a looming lower house election this month.
Regarding the place of nuclear power in the country's future energy policy, most parties called for "abolition" of nuclear power, "graduation from" nuclear power or "denuclearization" in their campaign pledges.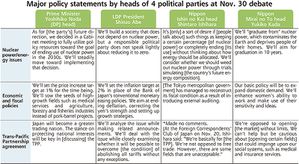 However, the Liberal Democratic Party stopped short of clearly pledging to end nuclear power dependence. "If you take this problem seriously, you shouldn't mince words," LDP President Shinzo Abe said sarcastically about other parties' stances to halt nuclear power.
He then flatly rejected the argument that the country should use such renewable energy sources as solar and wind power in place of nuclear. "We can't rely on renewable energies that haven't been developed yet," Abe said.
What makes the LDP's campaign pledge unique is the emphasis on "responsibility for people's livelihood," so as not to cause undue suffering to society due to power shortages and other problems while aiming at realizing a society and economy not dependent on nuclear power.
Specifically, the LDP campaign pledge stated the party would determine whether to resume operation of all nuclear reactors in the country within three years; and establish a sustainable "best mix of power sources" within 10 years.
===
Noda: Listen to society
But Prime Minister Yoshihiko Noda, leader of the ruling Democratic Party of Japan, outright rejected Abe's remarks as being out of touch with society's wishes.
"The public is determined to end nuclear power dependence and the operation of nuclear reactors. We should sincerely accept [such a sentiment] and promote feasible policies and measures [toward that end]," Noda said. The DPJ states in its manifesto for the upcoming lower house election that it aims to achieve "zero nuclear power generation" in the 2030s.
Meanwhile, Noda said there is no option but to continue a nuclear fuel reprocessing program. "We need technology and human resources to decommission nuclear plants," he said.
However, if the government touts a policy of denuclearization, it will be difficult to attract human resources for nuclear power-related research, observers said.
Nippon Mirai no To (Japan future party) advocates the country "graduate from" nuclear power generation, with an eye toward eventually abolishing all nuclear power plants.
However, the stances of both the DPJ and Nippon Mirai no To both leave the path to the future ambiguous.
"To begin with, we must 'graduate from' nuclear power generation, which contaminates the Earth and deprives people of their homes," Mirai no To leader Yukiko Kada said.
The party said it aims to abolish nuclear power generation within 10 years. Kada cited reducing the total power consumption as a concrete measure toward zero nuclear power dependence. Household electricity consumption has doubled in the past 20 years.
On this basis, Kada said the party will make efforts to develop renewable energy and make more efficient use of fossil fuels.
===
Intraparty division exposed
During the discussions, Nippon Ishin no Kai (Japan Restoration Party) revealed intraparty disagreement over nuclear policy.
In its platform, the party states as a policy example that "existing nuclear plants would fade out by the 2030s." However, Ishin no Kai leader Shintaro Ishihara launched into his view about maintaining them, saying, "Abolishing all nuclear plants is a sort of desire."
When asked about the term "fade out," he said, "What do you mean by 'fade out?'" then added: "That's not true. I had the pledge corrected."
As Ishin no Kai acting leader Toru Hashimoto has already said he favors denuclearization, the party used the term "fade out" to paper over differences between Ishihara and Hashimoto, the party's poster boys, according to observers.
Ishin no Kai Secretary General Ichiro Matsui denied Ishihara's remark that the term "fade out" had been "corrected."
"The party's leader and acting leader confirmed [the term] together and announced the party's platform. It was the party's decision," Matsui told reporters Friday in Osaka.
===
Abe TPP stance unclear
In Friday's debate between political party leaders, both Noda and Abe failed to clarify their parties' stances on the Trans-Pacific Partnership free trade issue, probably because both parties have conflicting internal opinions.
"Will [the LDP] step on the gas or put on the brake?" Noda asked rhetorically about the issue. "I can't see [the party's stance]. Please give me a clear answer."
Noda pressed Abe hard to clarify the LDP's stance on participation in the TPP talks.
Abe hit back, saying: "Eliminating tariffs without exceptions is tantamount to saying we must give up our tariff autonomy. Why wasn't there any prior coordination [between Tokyo and Washington]? Because the DPJ-led administration has ruined the relationship of trust in the Japan-U.S. alliance."
Abe insisted that if the Japan-U.S. alliance had been firm, the government could have made prior arrangements with the U.S. side to ensure exceptions in farm and other products concerning the elimination of tariffs.
However, Abe's rebuttal only gave the impression he was evading Noda's question.
Noda, for his part, also backed away from earlier expressions of determination to participate in the TPP talks and sounded more in line with the DPJ's campaign pledges, which use the expression "the government will determine" whether Japan will participate in the TPP talks. During Friday's debate, Noda did not deviate from the party's manifesto.
Meanwhile, Kada clearly showed her opposition to Japan's participation in the TPP talks. "We must be cautious about the TPP, which could have an unwelcome impact on Japan's social systems, which have created peace of mind among the people about such things as the medical and insurance systems," Kada said.
Some observers believe Kada made the statement out of consideration for the anti-TPP stance of former DPJ leader Ichiro Ozawa, who is expected to join Kada's party by disbanding his own People's Life First party.
Ishihara did not refer to the TPP issue in the debate. Hashimoto supports TPP participation, but Ishihara has been cautious about the issue. Some observers said Ishihara did not refer to the issue in the debate because his views on the issue differ from those of Hashimoto.