August 13, 2012
TEPCO's Fukushima nuke plant exec recalls hydrogen blast as greatest shock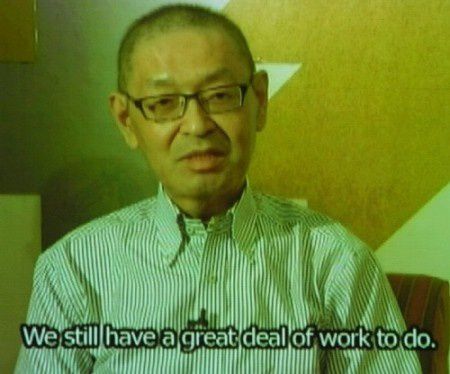 Masao Yoshida, former head of the Fukushima No. 1 Nuclear Power Plant, speaks during a video interview.
http://mainichi.jp/english/english/newsselect/news/20120813p2a00m0na019000c.html
A Tokyo Electric Power Co. (TEPCO) executive, who headed the Fukushima No. 1 Nuclear Power Plant when it was hit by the earthquake and tsunami in March 2011, has recalled that the greatest shock in the accident was one of the hydrogen explosions.
"What had the greatest impact during the accident was a hydrogen explosion at its No. 3 reactor building," he said in a video. "It would have been no surprise if workers including myself had died in the blast. I actually thought at the time that about 10 workers might have died."
Masao Yoshida, 57, made the remarks in a video in which he was interviewed about his feelings at the time of the outbreak of the nuclear disaster. The video was shown at a symposium in Fukushima on Aug. 11, which was organized by Bunya, a publishing house in Nagano Prefecture.
It was the first time that Yoshida had talked about his feelings at the time of the accident after he quit his position.
"I thought it'd be unfair for me to talk about the accident before investigations by the government and other accident investigative committees have ended," he said at the beginning of the videotaped interview.
Yoshida said TEPCO should place top priority on efforts to bring the crippled nuclear plant under control. "The company should clarify its responsibility for the crisis, but the most important thing is to bring the No. 1 nuclear power station under control."
He recalled that he wrote down the names of plant workers on a whiteboard as a substitute for grave markers for them in case they died.
Yoshida described how his exhausted subordinates went into the plant despite high radiation levels as being like a scene from hell. "There were many workers who went inside the plant even though they were exhausted, and were unable to sleep or eat enough. Amid such a hellish situation, I felt as if these compassionate souls appeared from the surface of the ground like saviors, just as depicted in the Lotus Sutra (of Buddhism) that I've been reading for long."
The interview was conducted on July 10 shortly before he underwent emergency surgery for a brain hemorrhage on July 26.