June 5, 2013
Chiba University invents unmanned helicopter to monitor radiation levels
The unmanned helicopter takes off on a demonstration flight at Chiba University. (Mainichi)
http://mainichi.jp/english/english/newsselect/news/20130605p2a00m0na010000c.html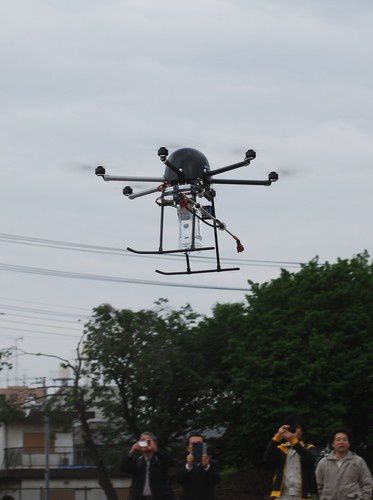 CHIBA -- A team of engineers has invented a small unmanned helicopter that can be used for monitoring radiation levels around the crippled Fukushima No.1 nuclear power plant. The aircraft has been drawing attention for its ability to cruise without the use of remote control.
Kenzo Nonami, a professor at Chiba University, and his lab team produced the 1.5-meter-long helicopter that can carry up to 10 kilograms of equipment. It has enough power to rise to a latitude of 100 meters using GPS to identify its flight location. Since it can fly using an autopilot system, the helicopter could be used for tasks that are too dangerous for humans, including monitoring radiation levels and for dispersing agrichemicals.
In December the owner of a machine manufacturer from the village of Iitate, Fukushima Prefecture, asked Nonami, who is known for his development of small unmanned helicopters, to invent a device for observing radiation levels around mountain regions near the nuclear plant where radiation levels are too high for humans to investigate.
The team tested the helicopter in Fukushima at the end of May. The creators aim to improve the machine to be able to carry up to 20 kilograms. At present the helicopter battery only lasts for 15 minutes, so the team is working on a system in which the batteries automatically switches over to a backup.
"We'll continue improving the machine for speedy research at sites where people can't get close," Nonami said.